By LOGGING INTO OUR WEBSITE, YOU ARE AGREEING TO:
GLOBAL MARITIME TRANSPORTATION SERVICES, INC.
BOTE SYSTEM
TERMS OF USE AND SERVICE AGREEMENT
1. ATTENTION: THE FOLLOWING TERMS OF USE AND SERVICE WILL BE LEGALLY BINDING ON ALL CUSTOMERS UPON EXECUTION OF THE LOGIN FUNCTION. THIS AGREEMENT SHOULD BE READ AND UNDERSTOOD BEFORE EXECUTING THE AGREEMENT.
2. Terms of Service: The customer acknowledges and agrees to the following terms of service which shall govern Customer's access and use of the System (the "Agreement"). Capitalized terms not otherwise defined herein, shall have the meaning given to them in Section 9 below. In addition, Customer agrees that unless explicitly stated otherwise, any new features that augment or enhance the System and / or any new service(s) subsequently purchased by the Customer will be subject to the terms and conditions of this Agreement.
2.1 Customer Must Have Internet Access: DSL, cable or another high speed internet connection is required for proper transmission of the System. The Customer is responsible for procuring and maintaining the network connection that connects the Customer's network to the System, including but not limited to, "browser" software that supports protocol used by BOTE, including Secure Socket Layer (SSL) protocol or other protocols accepted by BOTE and to follow logon procedures for services that support such protocols. Global Maritime Transportation Services, Inc. (herein after referred to as "GMTS"), is not responsible for notifying Customer of any upgrades, fixes or enhancements to any such software, or any compromise of data transmitted across computer networks or telecommunications facilities (including but not limited to the internet) which are not owned or operated by GMTS. GMTS assumes no responsibility for the reliability or performance of any connections as described in this Section.

2.2 Accuracy of Customer's Contact Information: Customer shall provide accurate, current and complete information on the Customer's legal name, legal business name (in cases of business registration), address (including, street number and name, city, state and zip or postal code where applicable), e-mail address and phone number, and maintain and promptly update this information if it should change.

2.3 Users - Passwords, Access and Notification: Customer shall authorize access to and provide to their personnel and agents a unique user name and password and direct their personnel and agents that these logins and passwords are intended only for their use and should not be shared or used by more than one USER, but any USER ID may be re-assigned to another USER as needed. Customer will be responsible for the confidentiality and use of the USER'S passwords and user names. Customer will also be responsible for all Electronic Communications, including those containing business information, account registration, account holder information, financial information, Customer Data and all other data of any kind contained within e-mails or otherwise entered electronically through the System or under the Customer's account. GMTS will act as though any Electronic Communication it receives under Customer's name and / or account number will have been sent by the Customer. Customer shall use commercially reasonable efforts to prevent unauthorized access to or use of the System and shall promptly notify GMTS of any unauthorized access or use of the BOTE System and any loss or theft or unauthorized use of any USER'S password or name and / or Service account numbers.

2.4 Customer's Lawful Conduct: The System provides for Electronic publishing and web access to the publishing of shipping conditions, rates, applicable charges and surcharges, ancillaries, rules and terms of service to third parties. Customer shall comply with all applicable local, state, federal and foreign laws, treaties, regulations and conventions in connection with its use of System, without limitation. Customer shall comply with all related filing laws and regulations of the United States and other applicable jurisdictions while using System and obtain any licenses, permits, bonds and authorizations for such compliance. Without limiting the foregoing, (i) Customer represents that it is not named on any government list of persons or entities prohibited from licensed or working in the industry, (ii) Customer shall not permit Users to access, use, publish or cause to be published any items in violation of any filing requirements in any jurisdictions, (iii) Customers shall comply with all applicable laws in the United States and the country in which its Users are located. Except as permitted by this agreement no part of this System may be copied, reproduced, distributed, republished, displayed, posted or transmitted in any form or by any means. Customer agrees not to access the System by any means other than through the interfaces that are provided through the BOTE service. Customer shall not do any "mirroring" or "framing" of any part of the System, or create Internet links to the System which include login information, user names, passwords, and / or secure cookies without having received expressed written permission to do so. Customer shall ensure that all access and use of Service by Users established under their account name is in accordance with the terms and conditions of this agreement, including but not limited to those Users that are contractors, programmers, entities, and agents or Company's affiliates. Any action or breach by any such party including contractors, agents, programmers and Affiliates shall be deemed and action or breach by Company and Company waives all of those defenses that Company may have as to why Company should not be liable for Company's contractors', agents, programmers and Affiliates' acts, omissions and noncompliance with this agreement.

2.5 Third Party Web Sites, Products and Services: GMTS may offer certain Third Party Applications or Services for sale as linked from the BOTE product service site. Any purchases of such Third Party Applications by Customer shall be subject to the terms specified by those Third Party Applications. In addition, GMTS through the System may offer links to other websites, resources, Third Party Applications or services, including implementation, customization and other consulting services related to customers' use of the System. GMTS does not warrant any such Third Party Applications or services, whether or not such Third Party Applications are designated by GMTS as "certified", "approved", "recommended" or otherwise, or the services are provided by a third party that is a member of a GMTS partner program. Any Purchase by Customer of any Third Party Application or services is solely between Customer and the applicable third party provider.

GMTS is not responsible for the availability or the quality, accuracy, integrity, fitness, safety, reliability, legality or any other aspect of such Third Party Applications or services that Customer connects to through the System or any descriptions, promises or other information related to the foregoing. If Customer installs or enables Third Party Applications or services for use with the System, Customer agrees that GMTS may allow such third party providers to access Customer Data as required for the interoperation of such Third Party Applications with the System and any such exchange of data or other interaction between Customer and third party provider is solely between Customer and such third party provider. GMTS shall not be responsible for any disclosure, modification or deletion of Customer Data resulting from any access by Third Party Applications or third party providers. No purchase of such Third Party Applications or services is required to use the System.

2.6 Transmission of Data: Customer understands that the processing and transmission of Customers Electronic Data is fundamentally necessary to use the System. Customer expressly consents that GMTS's interception and storage of Electronic Communications and / or Customer Data, and Customer understands that Customer's Electronic Communication and Data will involve transmission over the internet and over various networks only part of which may be owned and / or operated by GMTS. Customer further acknowledges and understands the Electronic Communications and Data may be compromised or intercepted by unauthorized parties when communicated across the Internet, network facilities, telephone or other electronic means. GMTS is not responsible for any Electronic Communication and / or Data, which are delayed, lost, altered, intercepted or stored during the transmission of any data whatsoever across networks not owned and / or operated by GMTS, including, but not limited to, the Internet and Customers local network.

2.7 Service Level: During the Term of Service, GMTS will meet the service level specified in the "Service Level Commitment" listed in Schedule 1 hereto. In the event that GMTS fails to meet the respective service level, Customer will be entitled, as its sole and exclusive remedy, to a credit in accordance with the terms set forth in the applicable Service Level Commitment. The BOTE system logs and records shall be used for calculating any service level events.

2.8 BOTE Support: As part of the BOTE System package, GMTS will provide online User Guides and / or online help to assist Customer in its use of the BOTE system. GMTS also offers optional and "for fee" training classes, professional Systems consultation and customer support services. Customer acknowledges that GMTS has extensive experience helping Customers improve benefits of System and that not following advice of GMTS and / or not engaging GMTS in the implementation and use of the BOTE system may limit Customer's ability to successfully utilize the System or to enjoy the power and potential of the System.

2.9 Security: GMTS shall maintain reasonable administrative physical and technical safeguards for protection, confidentiality and integrity of Customer Data.

2.10 Confidential Information: For the purposes of this agreement "Confidential information" means all confidential and proprietary information of a party ("Disclosing Party") disclosed to the other party ("Receiving Party") whether orally or in writing, which is clearly identified as confidential at the time of disclosure. Notwithstanding the foregoing (i) Customers Data unless considered public under the rules and regulations of the Federal Maritime Commission (FMC) (ii) the terms of this agreement including GMTS pricing, estimates, longevity and other terms expressed in a quote or contract, GMTS technology and technical information, product design and features, as well as, GMTS support cases shall all be considered the confidential information of GMTS. Confidential information shall not include information which (1) is known publicly; (2) is generally known in the industry before disclosure; (3) has become publicly known, without the fault of the Receiving Party, subsequent to disclosure by the Disclosing Party; or (4) the Receiving Party becomes aware of from a third party not bound by non-disclosure obligations to the Disclosing Party and with lawful right to disclose such information to the Receiving Party.

Each party agrees (1) to keep confidential all Confidential Information disclosed to it by the other or Disclosing Party; (2) not to use or disclose Confidential information of the Disclosing Party except to the extent necessary to perform its obligations or exercise rights under the Agreement, except with the Disclosing Party's prior written consent; (3) to protect the confidentiality thereof in the same manner as it protects the confidentiality of similar information and data of its own (at all times exercising at least a reasonable degree of care in the protection of such Confidential Information) and to make Confidential Information available to authorized persons only on a need to know basis. Either party may disclose Confidential Information on a need to know basis to its contractors and service providers who have executed written agreements requiring them to maintain such information in strict confidence and use it only to facilitate the performance of their services in connection with the performance of this agreement. Notwithstanding the forgoing, this Section will not prohibit the disclosure of information to the extent that such disclosure is permitted or required by law or order of a court or other governmental authority or regulation.

2.11 Ownership of Data: As between GMTS and Customer all title to the data is owned exclusively by the Customer. The Customer acknowledges and agrees that in connection with the GMTS service and the BOTE system, GMTS makes backup copies of the customer data and stores and maintains data in a standard business process and for a length of time determined by GMTS to be reasonable. The Customer may request a copy of their data once per year and a copy of said data will provided to the Customer within a reasonable period of time. This data will be provided in a format currently employed by the BOTE system either in the form of a backup or in such form of export as provided by the BOTE system currently. Any additional copies of data or any other forms of data requested will be subject to an agreement on price and type of work covered in a signed statement of work agreement to which both the Customer and GMTS agree. In the event no further agreement is reached, GMTS will not be further obligated in this regard. GMTS is provided permission to save and use all public information for a term to be determined by GMTS alone but may not exceed 7 years following the termination of this agreement.

2.12 GMTS Intellectual Property Rights: Customer agrees that all rights, title and interest in and to all intellectual property rights in the BOTE System are owned exclusively by GMTS. Except as provided in this Agreement, the license granted to Customer does not convey any rights in the System, express or implied, or ownership to the System or any intellectual property rights thereto. In addition, GMTS shall have a royalty-free, worldwide, transferable, sub-licensable, irrevocable, and perpetual license to use or incorporate into the System any suggestions, enhancement requests, recommendations or other feedback provided by Customer, including users, relating to the operation of the BOTE System. Any rights not expressly granted herein are reserved by GMTS. GMTS and BOTE System marks, logos and product and service names are marks of GMTS or BOTE, respectively (the "GMTS Marks"). Customer agrees not to display or use the GMTS Marks in any manner without GMTS's express prior written permission. The trademarks, logos and service marks of Third Party Application providers ("Marks") are the property of such third parties. Customer is not permitted to use these Marks without the prior written consent of such third party, which may own the Mark.

2.13 Dispute Resolution: The Customer agrees that before it or any employee, agent or representative of the Customer files a claim or suit with a federal or state agency or court or other public forum, it shall provide sixty (60) days prior written notice to GMTS and that, within such sixty (60) day period, authorized representatives of the Customer shall meet at least once in one of the GMTS offices (or other suitable location) in a good faith attempt to resolve the perceived dispute.

2.14 Legal and or Government Requests for Access to Data : Where a Receiving Party is required to disclose the Confidential Information of the Disclosing Party pursuant to the order of a court or administrative body of competent jurisdiction or a government agency, the Receiving Party shall: (i) if practicable and permitted by law, notify the Disclosing Party prior to such disclosure, and as soon as possible after such order; (ii) cooperate with the Disclosing Party (at the Disclosing Party's costs and expense) in the event that the Disclosing Party elects to legally contest, request confidential treatment, or otherwise attempt to avoid or limit such disclosure; and (iii) limit such disclosure to the extent legally permissible.
3. Warranty of Functionality: GMTS warrants that the System (i) will achieve in all material respects the functionality described in the User Guides applicable to the System licensed by Customer, and (ii) such functionality will not be materially decreased during the Term. Customer's sole and exclusive remedy for GMTS's breach of this warranty shall be that GMTS shall be required to use commercially reasonable efforts to modify the System to achieve in all material respects the functionality described in the User Guides and if GMTS is unable to restore such functionality, Customer shall be entitled to terminate the Agreement and receive a pro-rata refund of the subscription fees paid for under the Agreement for its use of the System for the terminated portion of the Term. GMTS shall have no obligation with respect to a warranty claim unless notified of such claim within sixty (60) days of the first instance of any material functionality problem, and such notice must be sent to Global Maritime Transportation Service Inc., 6221 Shelburne Road, Suite 170, Shelburne, Vermont 05482. The warranties set forth in this Section 3.1 are made to and for the benefit of Customer only. Such warranties shall only apply if the applicable System has been utilized in accordance with the User Guides, this Agreement and applicable law.
4. Disclaimer of Warranties: EXCEPT AS STATED IN SECTION 3 ABOVE, GMTS DOES NOT REPRESENT THAT CUSTOMER'S USE OF THE SYSTEM WILL BE SECURE, TIMELY, UNINTERRUPTED OR ERROR-FREE OR THAT THE SYSTEM WILL MEET CUSTOMER'S REQUIREMENTS OR THAT ALL ERRORS IN THE SYSTEM AND/OR DOCUMENTATION WILL BE CORRECTED OR THAT THE OVERALL SYSTEM THAT MAKES THE SYSTEM AVAILABLE (INCLUDING BUT NOT LIMITED TO THE INTERNET, OTHER TRANSMISSION NETWORKS, AND CUSTOMER'S LOCAL NETWORK AND EQUIPMENT) WILL BE FREE OF VIRUSES OR OTHER HARMFUL COMPONENTS. THE WARRANTIES STATED IN SECTION 3 ABOVE ARE THE SOLE AND EXCLUSIVE WARRANTIES OFFERED BY GMTS. THERE ARE NO OTHER WARRANTIES OR CONDITIONS, EXPRESS OR IMPLIED, INCLUDING WITHOUT LIMITATION, THOSE OF MERCHANTABILITY OR FITNESS FOR A PARTICULAR PURPOSE OR NONINFRINGEMENT OF THIRD PARTY RIGHTS. CUSTOMER ASSUMES ALL RESPONSIBILITY FOR DETERMINING WHETHER THE SYSTEM OR THE INFORMATION GENERATED THEREBY IS ACCURATE OR SUFFICIENT FOR CUSTOMER'S PURPOSES.
5. Limitations of Liability: CUSTOMER AGREES THAT THE CONSIDERATION WHICH GMTS IS CHARGING HEREUNDER DOES NOT INCLUDE CONSIDERATION FOR ASSUMPTION BY GMTS OF THE RISK OF CUSTOMER'S INCIDENTAL OR CONSEQUENTIAL DAMAGES. IN NO EVENT SHALL GMTS BE LIABLE TO ANYONE FOR LOST PROFITS OR REVENUE OR FOR INCIDENTAL, CONSEQUENTIAL, PUNITIVE, COVER, SPECIAL OR EXEMPLARY DAMAGES, OR INDIRECT DAMAGES OF ANY TYPE OR KIND HOWEVER CAUSED, WHETHER FROM BREACH OF WARRANTY, BREACH OF CONTRACT, NEGLIGENCE, OR ANY OTHER LEGAL CAUSE OF ACTION AND WHETHER OR NOT GMTS HAS BEEN ADVISED OF THE POSSIBILITY OF SUCH DAMAGES TO THE MAXIMUM EXTENT PERMITTED BY LAW.
Except with regard to amounts due under this Agreement, and a party's breach of Section 2.10 (Confidential Information), the maximum liability of GMTS to any person, firm or corporation whatsoever arising out of or in the connection with any license, use or other employment of the System, whether such liability arises from any claim based on breach or repudiation of contract, breach of warranty, negligence, tort, or otherwise, shall in no case exceed the equivalent of 6 months in System access fees applicable at the time of the event. The parties acknowledge that the limitations set forth in this Section are integral to the amount of fees charged in connection with the license of the System and that, were GMTS to assume any further liability other than as set forth herein, such fees would of necessity be set substantially higher.
THE LIMITATIONS OF LIABILITY SET FORTH IN THIS SECTION SHALL NOT APPLY TO EITHER PARTY'S INDEMNITY OBLIGATIONS SET FORTH IN SECTION 6 BELOW. Certain states and/or jurisdictions do not allow the exclusion of implied warranties or limitations of liability for incidental or consequential damages, so the exclusions set forth above may not apply to Customer.
6. Indemnification.
6.1 Infringement: GMTS shall, at its own expense and subject to the limitations set forth in this Section 6, defend Customer from and against any and all allegations, threats, claims, suits, and proceedings brought by third parties (collectively "Claims") alleging that the System, as used in accordance with this Agreement, infringes third party copyrights, trade secrets or trademarks and shall hold Customer harmless from and against liability, damages, and costs finally awarded or entered into in settlement (including, without limitation, reasonable attorneys' fees) (collectively, "Losses") to the extent based upon such a Claim.

Excluded from the above indemnification obligations are Claims to the extent arising from (a) use of the System in violation of this Agreement or applicable law, (b) use of the System after GMTS notifies Customer to discontinue use because of an infringement claim, (c) modifications to the System or use of the System in combination with any software, application or service made or provided other than by GMTS, or (d) failure by Customer to take all reasonable actions to prevent or mitigate losses, damages, costs and expenses.

If a Claim of infringement is brought or threatened, GMTS shall, at its sole option and expense, use commercially reasonable efforts either (a) to procure a license that will protect Customer against such Claim without cost to Customer; (b) to modify or replace all or portions of the System as needed to avoid infringement, such update or replacement having substantially similar capabilities; or (c) if (a) and (b) are not commercially feasible, terminate the Agreement.. The rights and remedies granted Customer under this Section 6.1 state GMTS entire liability, and Customer's exclusive remedy, with respect to any claim of infringement of the intellectual property rights of a third party.

6.2 Reserved for Future Use:

6.3 Customer's Indemnity: Customer shall, at its own expense and subject to the limitations set forth in this Section 6, defend GMTS from and against any and all Claims (i) alleging that the Customer Data or any trademarks or service marks other than GMTS Marks, or any use thereof, infringes the intellectual property rights or other rights, or has caused harm to a third party, or (ii) arising out of Customer's breach of Section 2.4 (Customer's Lawful Conduct) or 2.10 (Confidential Information) above and shall hold GMTS harmless from and against liability for any Losses to the extent based upon such a Claims.

6.4 Indemnification Procedures and Survival: In the event of a potential indemnity obligation under this Section 6, the indemnified party shall: (i) promptly notify the indemnifying party in writing of such Claim; (ii) allow the indemnifying party to have sole control of its defense and settlement; and (iii) upon request of the indemnifying party, cooperate in all reasonable respects, at the indemnifying party's cost and expense, with the indemnifying party in the investigation, trial, and defense of such Claim and any appeal arising therefrom. The indemnification obligations under this Section 6 are expressly conditioned upon the indemnified party's compliance with this Section 6.4 except that failure to notify the indemnifying party of such Claim shall not relieve that party of its obligations under this Section 6 but such Claim shall be reduced to the extent of any damages attributable to such failure. The indemnification obligations contained in this Section 6 shall survive termination of this Agreement for one year.
7. Suspension and / or Termination:
| | |
| --- | --- |
| | 7.1 Suspension for Delinquent Account: GMTS reserves the right to suspend Customer's and any Customer Affiliates' access to and/or use of the System for any accounts (i) for which any payment is due and unpaid but only after GMTS has provided Customer one (1) delinquency notice, and at least fifteen (15) days have passed since the transmission of the notice ("Delinquent Account Status"), or (ii) for which Customer has not paid for the renewal term and has not notified GMTS of its desire to renew the System by the End Date of the then current term. The suspension is for the entire account and Customer understands that such suspension would therefore include Affiliate sub-accounts. Customer agrees that GMTS shall not be liable to Customer or to any Customer Affiliate or other third party for any suspension of the System pursuant to this Section 7.1. |
| | 7.2 Suspension for Ongoing Harm: Customer agrees that GMTS may with reasonably contemporaneous telephonic notice to Customer suspend access to the System if GMTS reasonably concludes that Customer's System is being used to engage in denial of service attacks, spamming, or illegal activity, and/or use of Customer's System is causing immediate, material and ongoing harm to GMTS or others. In the extraordinary event that GMTS suspends Customer's access to the System, GMTS will use commercially reasonable efforts to limit the suspension to the offending portion of the System and resolve the issues causing the suspension of use of the System. Customer agrees that GMTS shall not be liable to Customer nor to any third party for any suspension of the System use under such circumstances as described in this Section 7.2. |
| | 7.3 Reserved for Future Use: |
| | 7.4 Handling of Customer Data In The Event Of Termination: Customer agrees that following termination of Customer's account and/or use of the System, GMTS may immediately deactivate Customer's account shall be entitled to delete Customer's account from GMTS BOTE System site. Thereafter and for the period set forth in Section 2.12, upon Customer's written request, GMTS will retrieve Customer Data on back-up tapes from archives at Customer's expense at the then applicable GMTS hourly rate for such services. Customer further agrees that GMTS shall not be liable to Customer nor to any third party for any termination of Customer access to the System or deletion of Customer Data, provided that GMTS is in compliance with the terms of this Section 7.4. |
8. Modifications and / or Discontinuation of The Service.
| | |
| --- | --- |
| | 8.1 Modifications to the System: GMTS may make modifications to the System or particular components of the System from time to time and will use commercially reasonable efforts to notify Customer of any material modifications. GMTS reserves the right to discontinue offering the System at the conclusion of Customer's then current Term. GMTS shall not be liable to Customer nor to any third party for any modification of the System as described in this Section 8.1. |
| | 8.2 Reserved for Future Use: |
9. USER Responsibility
Minimum Requirements
The required configurations USER must have to access the Hosted Services include:
· Internet connection with adequate bandwidth
· Current Internet Browser (Firefox, Safari, Internet Explorer, Chrome)
· Access to the site (not blocked by administrative network settings)
Locked User Profiles: As part of its secure access protocol, the BOTE system automatically locks a user from access after three (3) failed attempts to login. This protocol does not constitute a denial of service nor does it factor into the downtime calculations. It is understood that this protocol is used as protection of both the customer's data and the BOTE System.
Control Panel
The Control Panel is provided to all USERs enabled with Hosted Services at GMTS, therefore the USER can manage Some aspects of their own account and services. The USER should use discretion when granting administrative privileges to the Control Panel. For liability purposes The Support Team is not permitted to access nor perform tasks via the USER Control Panel. Mailboxes, services enabled, and storage quota facilitated in the Control Panel are billable and GMTS is unable to provide credits due to negligence in the Control Panel. GMTS is not responsible for downtime related to negligence in the Control Panel. An example of negligence is service unavailability caused by reaching quota limits set in the Control Panel. Another negligence example is Hosted Services disabled/deleted in error. Please note that in the case of negligence GMTS may/may not have the ability to restore data as data restoration is reserved for disaster recovery purposes. If data is lost due to negligence and it is determined that the data or a fraction of the data can be restored, professional service fees may be applied as stated in the GMTS Backup and Restoration Policy.
10. Definitions.
Affected Seats : GMTS's Hosted Service are provided in a multi-tenant architecture where seats of a USER's domain may be extended across numerous servers. USER may obtain remedy only for affected seats residing on the server experiencing Downtime exceeding the SLA.
Affiliates: means any entity which directly or indirectly, through one or more intermediaries, controls, or is controlled by, or is under common control with Customer, by way of majority voting stock ownership or the ability to otherwise direct or cause the direction of the management and policies of Customer.
Available or Availability: When the USER whose account is active and enabled has reasonable access to the Hosted Service provided by GMTS, subject to the exclusions defined in Downtime Minutes below.
Customer Data: means all electronic data or information submitted to the System by Customer or its Affiliates for input into the System on the customer's behalf.
Downtime : The total number of minutes that the USER cannot access the Hosted Service. The calculation of Downtime Minutes excludes time that the USER is unable to access the Hosted Services due to any of the following:
(a) Maintenance Time
(b) USER's own Internet service provider
(c) Force Majeure event
(d) Any systemic Internet failures
(e) Enhanced Services
(f) Any failure in the USER's own hardware, software or Network connection
(g) USER's bandwidth restrictions
(h) USER's acts or omissions
(i) Anything outside of the direct control of GMTS
Emergency Maintenance : These change controls happen immediately with little notification ahead of time; however, we will post the information to our website soon after or during the change.
Estimate/Order Form: means a GMTS estimate, renewal notification or order form in the name of and executed by Customer or its Affiliate and accepted by GMTS, which specifies the System by GMTS subject to the terms of this Agreement.
GMTS Network : The use of a Third Party Hosted solution (Currently Peer 1). This may be altered by GMTS at any time providing such changes do not affect downtime beyond that as stated in other sections of this document
Maintenance Notices : GMTS will communicate the date and time that GMTS intends to make the Hosted Services un-Available via the news page of the Bote Rates web site at least forty-eight (48) hours in advance (or longer if practical). The USER understands and agrees that there may be instances where GMTS needs to interrupt the Hosted Services without notice in order to protect the integrity of the Hosted Services due to security issues, virus attacks, spam issues or other unforeseen circumstances. Below are the Maintenance Windows and their definitions:
Maintenance Time: The time period during which the Hosted Service may not be Available each month so that GMTS can perform routine maintenance to maximize performance, is on an as needed basis.
Planned Maintenance : These are change control's being done to:
· Support on-going product and operational projects to ensure optimal performance
· Deploy non-critical service packs or patches.
· Periodic redundancy testing.
Where possible planned maintenance will be posted 5-days prior; however, certain
circumstances may preclude us from doing so, such as an external vendor issuing a change control to GMTS, e.g. the power company alerting us to perform power testing 48 hours ahead of time.
Preventative Maintenance : These change controls are when we detect an item in the environment that we need to take action on, to avoid emergency change controls in the future. These change controls, if possible, will usually occur in low peak hours with peak being defined by our network metrics.
Problem Response Time : The time period after GMTS's confirmation of the Service event, from receipt of the information required from the USER for GMTS's Support Team to begin resolution and open a trouble ticket in GMTS's systems. Due to the wide diversity of problems that can occur, and the methods required to resolve them, problem response time IS NOT defined as the time between the receipt of a call and problem resolution. After receiving a report of fault, GMTS shall use a reasonable method to provide USER with a progress update.
Third Party Applications: means online, Web-based applications and offline software products that are provided by third parties, and interoperate with the System.
Total Monthly Minutes: The number of days in the month multiplied by 1,440 minutes per day.
Users: means individuals who are authorized by Customer to use the System, for whom subscriptions to a System have been purchased, and who have been supplied user identifications and passwords by Customer (or by GMTS at Customer's request). Users may include but are not limited to Customer's and Customer's Affiliates' employees, consultants, contractors and agents.
User Guides: means the detailed online guides that explain the workflow and setup of features like Service Contracts, Tariffs, Non-Bote ET's etc.
SCHEDULE 1
SERVICE LEVEL

Term of the Service Level Agreement
This Service Level Agreement shall only become applicable to the Hosted Services upon the later of (a) completion of the "stabilization period," as such term is defined in the Statement of Work (if any), or (b) ninety (90) days from the provisioning of Hosted Services.
Measurement
GMTS uses a Third Party Provider as the Host Services and this system measures whether the Hosted Services are Available and the USER agree that this system will be the sole basis for resolution of any dispute that may arise between the USER and GMTS regarding this Service Level Agreement.
Availability is calculated based on the following formula:
A = (T – M – D) / (T – M) x 100%
A = Availability
T = Total Monthly Minutes
M = Maintenance Time
D = Downtime
| | |
| --- | --- |
| Availability | Credit Amount of Monthly Fee for Affected Seats |
| > 97.9% but < 99.999% | 5% |
| > 96.9% but < 97.9% | 7% |
| < 96.9% | 9% |
Problem Response Time
GMTS's failure to meet the Service level metric for Problem Response Time for a month shall result in a Service Level Credit calculated per incident at a credit of 10% of the monthly invoice, up to a maximum Service Level Credit of $200 or 50% of the monthly usage fee, whatever is the lesser amount, for the Hosted Service (not including setup, activation fees or other services provided by GMTS) per month. The response time per incident will vary upon the degrees defined below:
| | | |
| --- | --- | --- |
| Category Level | Criteria | Problem Response Time |
| 1 | Unplanned interruption rendering the Services un-Available; no work-around | 15 Minutes |
| 2 | Unplanned interruption rendering the Services un-Available; work-around available | 60 Minutes |
| 3 | Services are un-Available for a single User or small percentage of USER affected | 4 Hours |
| 4 | Intermittent problem | 8 Business Hours |
Remedy and Procedure
The USER's remedy and the procedure for obtaining the USER's remedy in the event that GMTS fails to meet the Service level metrics set forth above are as follows:
To qualify for remedy:
(a) There must be a support ticket documenting the event within 24 hours of the service interruption
(b) USER account must be in good standing with all invoices paid and up to date
The USER must notify GMTS in writing within five (5) business days by opening a support ticket and providing the following details:
Subject of email must be: "Claim Notice - 'USER Domain'.com" (USER's primary domain hosted with GMTS must be listed in place of 'USERDomain.com')

List the type of Hosted Service that was affected

List the date the Downtime Minutes occurred

List user(s) Display Name and E-mail address affected by Downtime Minutes

List an estimate of the amount of actual Downtime Minutes

Ticket number of the documented event
GMTS will confirm the information provided in the Claim Notice within five (5) business days of receipt of the Claim Notice. If GMTS cannot confirm the Downtime Minutes, then the USER and GMTS agree to refer the matter to executives at each company for resolution. If GMTS confirms that GMTS is out of compliance with this Service Level Agreement, the USER will receive the amount of Service Level Credits set forth above for the affected Service level metric and the affected Seats for the affected month. The SLA credit will be reflected in the GMTS invoice to the USER in the month following GMTS confirmation of the Downtime Minutes. Please note that SLA credits can only be applied to accounts that are in good standing with all invoices paid and up to date.
SLA Exhibits
Exhibits to this Master Service Level Agreement may be available for Hosted Services provided by GMTS. The SLA Exhibits for each Hosted Service provides additional terms specific to the Hosted Service. The SLA Exhibits must be agreed to in addition to this Master Service Level Agreement prior to executing use of the Hosted Service.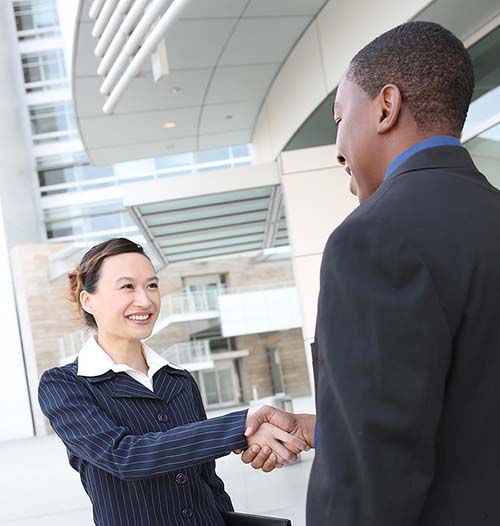 GMTS Vermont USA
GMTS Florida USA
2997 Shelburne Road | Suite 5
Shelburne VT 05482
Tel | 802.383.1689
Fax | 802.923.3858

9900 West Sample Road | Suite 311
Coral Springs Florida 33065
Tel | 954.340.8886
Fax | 802.923.3858